Stanton & Company
---
The team at Stanton & Company are transformation experts, specializing in occupied residential renovations and excelling in customer service. What we offer Fort Worth and the surrounding areas is unique in the industry; a one stop source for all remodeling needs, from design conception through construction. Our team provides client-focused, custom spaces with immaculate attention to detail. We listen to our clients to fully understand their ideas, needs and goals for flooring, kitchen, bath and living space remodels. At our Design Center, we explore options, review details, select the perfect finishes, and formulate a completely customized, client-inspired design plan with a line-item estimate to comply with their budget. All through construction, each of our project managers takes their customers by the hand and walks them through the entire process from pre-construction to final walk-thru.
Our goal is to bring your design dreams to life by transforming your space. At the same time, we strive to break the mold of the stereotypical remodeling company with the greatest emphasis on customer service and satisfaction.
Stanton Pearce Owner/CEO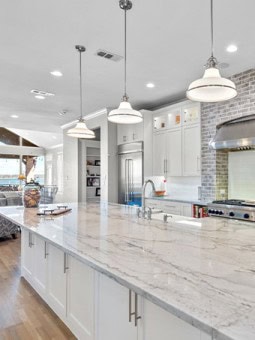 Our Services
Design
---
Our best work happens at the intersection of creativity and possibility. Our design consultants listen to the specific needs and desires of each client to customize and transform spaces the end user will be proud of for many years. With a Design Center full of selections and the vast knowledge of our consultants, we create a totally custom work of art for every project and to fit every budget.
Construction
---
Construction is complicated, but our organized project management services make the process seamless and easy for our clients. Our Project Managers have years of construction management experience, enabling them to take complete control of each project, allowing an unparalleled level of confidence for our customers. From pre-construction coordination, through the construction process, to final walk-thru, our PMs communicate daily with each customer. Their goal is that each project is executed with the highest level of skill, on time, and in budget so each customer is completely satisfied.
Satisfaction
---
Complete satisfaction is not an option, it is what drives every transformation. We expect the highest level of performance from every member of our team. From the initial measure, to estimating, design, selections, construction, communication, and invoicing, – each team member is held to the highest standards. Our customers become our friends and we care for them as such. Stanton & Company is "Big Enough to Help You, But Small Enough to Know You."
What Our Clients Are Saying
Please Visit Us at Either of Our Two Convenient Locations:
Design Center
4824 Camp Bowie Blvd.
Fort Worth, Texas 76107
817.731.5855
Open 10am-6pm (M-Th)
Open 10-5 (F)
Open 10-2 (Sa)
Corporate Office
6623 Corporation Parkway – Suite 140
Fort Worth, Texas 76126
817.441.2790
Open 8am-5pm (M-F)
Stanton & Company


Your One Stop Source For Design Transformations
© Copyright 2018 - 2023 Stanton and Company, Inc, All Rights Reserved. | Website Design by WABW Media Group