What We Offer
---
Unlimited Transformations
Stanton & Company provides stellar transformations for both residential and commercial projects.  Whether you renovate your home bathroom, kitchen or flooring, or if you have a commercial flooring project; Stanton & Company is here to help with every remodeling need.  We can bring your design dreams to life.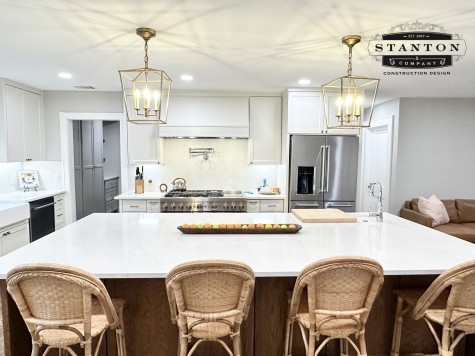 Design – Our Design Center Consultants
Our Design Center is conveniently located in Fort Worth on Camp Bowie Blvd.  It is full of gorgeous finishes to adorn every surface of your new dream space.  With countless materials conveniently located in our showroom, decisions can be made quickly and effortlessly.  Whether you are doing a simple refresh in one room or a whole house transformation, our design consultants are there to help with every detail in the planning phase of your project.  With years of experience in the industry, and vast product knowledge, our talented team is available to help you with all design decisions.  From creating the space of your dreams and meticulously selecting your beautiful finishes, to discussing pricing on your line-item estimate, or team is qualified to assist you through every decision.
The Design Center is truly a convenient one stop source for our customers, which provides such a valuable time saving resource. Some of the materials on display include:
Porcelain Tile
Mosaic/Deco Tile
Engineered Hardwood
Solid Hardwood
Luxury Vinyl Plank
Carpet & Custom Rugs
Quart Countertops
We also have examples of our custom cabinetry, plumbing displays, cabinet hardware, and paint color selections.
For a truly unique and customer-centered experience, come visit our staff at the Design Center to see the endless opportunities for design and material selections.
Construction – Our Project Managers:
Our project managers are highly skilled, with many years in the construction industry.  Each project manager works with his/her customer directly to walk them through their project before construction begins.  They coordinate with our warehouse staff to track material shipments, plan a detailed construction schedule, coordinate and schedule with all sub-contractors, and give reports throughout the course of your project to the entire S&Co team.  During the time of construction, the project manager communicates daily with the customer to report the progress of the day and with the plan for the week.  There is no doubt that construction is complicated.  But our project managers work tirelessly to ensure that every question and concern is addressed quickly before construction starts through the final walk-thru.  We are dedicated to providing each client with a level of service that is unmatched.
What Our Clients Are Saying
Please Visit Us at Either of Our Two Convenient Locations:
Design Center
4824 Camp Bowie Blvd.
Fort Worth, Texas 76107
817.731.5855
Open 10am-6pm (M-Th)
Open 10-5 (F)
Open 10-2 (Sa)
Corporate Office
6623 Corporation Parkway – Suite 140
Fort Worth, Texas 76126
817.441.2790
Open 8am-5pm (M-F)
Stanton & Company


Your One Stop Source For Design Transformations
© Copyright 2018 - 2023 Stanton and Company, Inc, All Rights Reserved. | Website Design by WABW Media Group